When your flooring or carpet is worn down, replacing it can totally transform and renew your facility.
Prominent Cleaning Corp. offers flooring installation and removal, with a full range of options for a new and professionally installed floor. Our experienced sales staff will be happy to provide a free, no-obligation consultation to discuss available options, and to help you select the one most appropriate to your facility and your budget.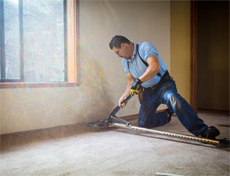 Sometimes, unfortunately, a carpet is far beyond any means of cleaning and need to be replaced. Other times, a new facility needs new carpet for move-in or post construction.
Regardless of the reason, our commercial flooring division is ready to provide the material, labor, and expertise needed to remove and install carpet at the most affordable prices. Prominent Cleaning has distribution agreements with all major and semi-major flooring manufacturers in the United States including Mohawk, Boylu and others.
Our carpet/flooring designers meet the customer on site with samples and options that meet the needs of the facility based on color, traffic, and use.
Our entire flooring selection is not limited to any name brand, style, or material. Many new facilities have resorted to alternative floor covering, such as hard wood and vinyl, instead of carpeting. These materials offer higher durability, and an assortment of pattern, textures, and colors that will fit any space. Furthermore, Wood and Vinyl floor covering requires very little upkeep, and will only need routine maintenance every few years.
Perfect for Commercial, Industrial, or even residential spaces, Wood and Vinyl floor covering has limitless applications.
Call us today
(212) 924-1515