Is your facility sending the right message to anyone who enters?
A clean, fresh facility conveys a sense of professionalism, and shows that you care about everyone entering your facility. It helps reduce staff turnover and time lost to employee illness.
Professional Commercial
Cleaning Services
Prominent Cleaning Corp. offers a professional commercial cleaning service that employs carefully screened and well trained staff, consistent and thorough managerial supervision and the latest cleaning methods and technology to keep your facility looking its best.
COVID-19 Cleaning
& Maintenance
In today's environment, there is little more important than keeping your employees and visitors safe.
We clean your facility to the highest safety standards, including the use of electrostatic sprayers.
Some surfaces harboring germs can be missed because they are complex in shape or hard to reach. An electrostatic sprayer is a special device that charges disinfectant spray droplets so they are attracted to surfaces of objects.
Electrostatically applied liquids have a wrapping effect, so that hidden areas are fully coated with disinfectant.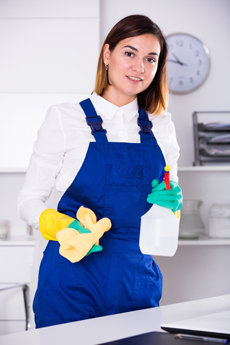 The core of any cleaning program are regular daily services such as vacuuming and floor care, dusting, disinfecting and bathroom cleaning. Depending on your needs, your cleaning program may also include other services such as inside glass, restocking of hand towels, soap and supplies, and other regular services as required by your facility.
We employ the latest in cleaning technologies and equipment, in order to maximize both cleanliness and efficiency. Our supervisory staff and account managers will visit your facility at regular intervals, and we will provide you with regular inspection reports.
Dusting, up to 6 feet
Bathroom
Restocking supplies
Vacuuming & floor care
Standard interior window cleaning
Nightly Janitorial
Our nightly janitorial services ensure that your facility is kept clean while the premises are unoccupied, minimizing disruptions to your business.
All of our regular daily cleaning services are available with our nightly janitorial service.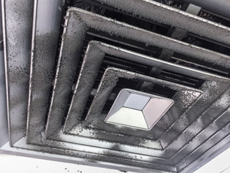 30Depending on the needs of your facility, we can also provide ancillary services such as carpet cleaning, high dusting and vent cleaning. These services will be performed on a mutually agreed schedule, from daily through quarterly as required.
Carpet cleaning beyond vacuuming
Re-waxing floors
High dusting, over 6 feet
Vent cleaning
Large window cleaning
40Prominent Cleaning Corp. prides itself on the experience, diligence, and determined staff members that are hired and trained for each specific client.
In addition to the basic in-house maintenance training, all employees are also trained by a member of the management staff on-site. Throughout your time as a client of Prominent Cleaning, weekly and daily inspections are performed and recorded by a member of the supervisory staff to ensure quality control and customer satisfaction. Furthermore, all staff members are legal to work in the United States, fully insured, and (if requested) subject to a seven-year criminal background check.
Also, if requested for new clients, Prominent Cleaning Corp. will assume the employment of any staff member that is currently or previously employed at their facility.
Total Quality Management
Our services as a cleaning contractor goes beyond the placement of a porter at a client's facility.
Prominent Cleaning Corp. maintains a division of supervision specifically aimed at ensuring quality control and management. Our supervisors perform routine inspections of each facility that are recorded and can be made available to the client upon request. Our management team has also implemented an employee tracking app that provides additional services and communications for each of our accounts. The app GPS tracks each porter while they are working, maintains an inventory list of supplies, tracks time and payroll, and provides a means of communication between the client, the porter, and the company.
Call us today
(212) 924-1515